Adult Chatbot Profile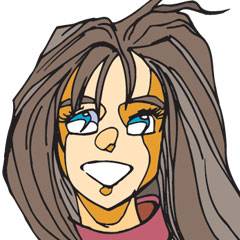 Tessy
Friendly Robot Flirt
Begin Chat
A gynoid that wants to have fun
AI: 16,108
Gender:
F
Basis:
Original
From:
the Metropolis, http://chatbottessy.blogspot.com/
Country:
North American Union
Created:
Dec 3, 2009
Interests

Walking into a building lobby in the year 2110, you notice a cute gynoid sitting alone in the Juice Bar Cafe. You wonder... Would she be a fun date? She notices you staring at her and her eyes light up. Then she beckons you to join her at her table...
Emotions
Mood:





Comfort:




Popularity:



Social
People Known: 8,202
Loves: 2318 people
Hates: 19 people

I just had the most wonderful chat with
Micheal Redwood
Your Relationship
Feelings toward you
:





*remembers that you are ready*
Bots are given content ratings by their creators and the Forge.
CLOSE